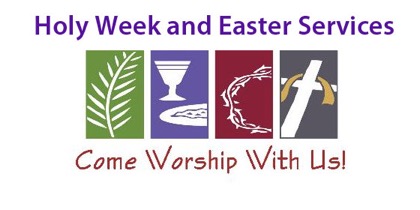 Palm Sunday - March 25

Service: For Palm Sunday, we will present the cantata "I Am the Lord of The Dance." This beautiful work narrates the story of the cross. It ends in silence; but is completed in celebration on Easter Sunday. We hope you will be able to attend both parts of this offering.

Wednesday Night - March 21
Regular Wednesday night Education/Worship.
(NOTE: Due to School Easter/Spring Break we will not have worship/education/meal on March 28)

Easter Stations - Easter Event:
- Wednesday, March 21 starting at 4:45-6:05.

Experience the Lenten season in a new and refreshing way. In groups, participants will visit five multi-sensory, engaging stations, from Jesus' triumphal entry on Palm Sunday to the joy of his resurrection on Easter. The stations are designed to permit reflection on the true meaning of the events leading to Easter. Everyone is welcome. Participants may visit the stations as a family, a small group or individually.

Join us in the upper Education Wing. Stations will start every 5 minutes with the last group starting at 6:05 (to allow time to complete all 5 stations and get to worship).
Maundy Thursday Services - March 29
12:00 Noon and 6:30 pm
Soup Lunch - 12:30 pm

Good Friday Services - March 30
6:30 pm at Calvary Lutheran
On Good Friday we will sing the Tenebrae Service "Light in the Darkness". Another beautiful and powerful telling of this part of our faith.

Easter Worship Services - MArch 31 & April 1
Saturday - 5:30 pm
Sunday 8:15 and 10:15 am

On Easter, we will end our services with a singing of the Alleluia Chorus from Handel's Messiah... plus all the great hymns of Easter.

Communion will be served by intincition on Easter weekend. Intinction is done by dipping the wafer into the wine or grape juice.

Easter Breakfast, 7:30-10:30am

Brunch will be served by the High School Youth from 7:30 am to 10:30 am. A free will offering will be taken and the offering will go towards the High School Youth Trip to Houston this summer.