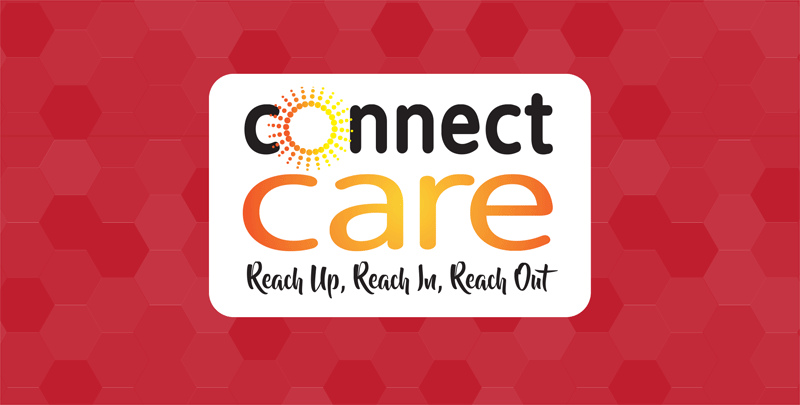 CONNECT & CARE
Thank you for being a part of Calvary Lutheran Church and for your generous support of our congregation's ministry. Your offerings are our grateful response calling us to be a part of God's family and asking us to be a "Connected and Caring" faith community. Thank you for being a good and generous steward of all the gifts given to you.

This fall our stewardship campaign focused on our vision statement – to be a connected and caring faith community. At Calvary, the phrase "Reach Up, Reach In, Reach Out" is our way of saying we desire to love God, love people, and serve the world.
REACH UP
We hope we have challenged you - to Reach Up and love God through worship.

Because of your generosity, we were fortunate to already be on track with the video equipment needed for remote worship. The change to digital projectors and cameras gave us a clearer picture for in-person worship and livestreaming, as well as improvements for our remote viewers on television. Thank you. We continue to work on upgrades for our audio equipment to further enhance our worship experience.

Week 1: Reach Up Video


REACH IN
We hope we have challenged you - to Reach In and reconnect with your faith community.

Let's renovate and reconnect with our Calvary faith community. Phase 1 will be the start of making the fellowship hall a better place to reconnect with each other. Upgrading the flooring would give us opportunities to add volleyball or pickleball or yoga classes. Moving the speakers and adding a projector would make movie nights an option or allow us additional overflow space. We need to make sure the acoustics are family friendly for Wednesday night mealtime.

WEEK 2: REACH IN VIDEO


REACH OUT
We hope we have challenged you - to Reach Out and support the community outside our church walls.

2021 allowed us to look beyond our physical walls. When our community was struggling with the pandemic, we knew that God was calling us to step up. Because of your generosity we knew we could answer the call to help our community.

Our monetary gifts, along with support for other fundraising efforts, helped Woyatan, our anchor church partner, complete the Native Community Resource Center this summer. Donations continue to actively help with tutoring for the children and meals for these families. This is only one example of Calvary Lutheran Church serving the world around us.

Thank you for your gifts that allow us to continue helping others in our community.

Week 3: Reach out Video



And finally we are challenging you to please return your statement of intent cards so that we can continue to support and grow into Calvary's vision.

Because there are different comfort levels for either in-person or remote worship during the current Covid situation, we have incorporated several ways to make your stewardship pledge:
Worship service on Saturday October 16th at 5:30 pm, Sunday October 17th at 9:30 am, and Wednesday October 20th at 6:30 pm (if you choose to come to live services)
Or mail to the church office (5311 Sheridan Lake Road, Rapid City, SD 57702)
Your offerings given this year are very important. Ministry is being accomplished because of your giving. Next year, our hope is that offerings will increase by $60,000 or more to meet our ministry initiatives. Please pray about this request. Review the blessings God has given you. Imagine the strengthened ministry of our congregation. Then, give the offering you think best reflects your gratitude to God. Be assured that your offering – whatever amount you give – will be appreciated.

Thank you for responding generously and joyfully to God's love in Christ Jesus.